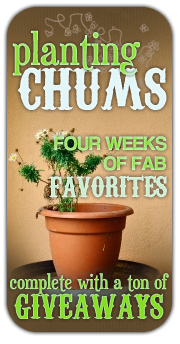 My bloggy chum
Hannah
is hosting
Planting Chums
over at her blog! This is an awesome way to meet new people on blogger and well......make bloggy chums! After all, it is called,
Planting Chums
.
All you have to do for this week is post four random things about you! Head over to
Hannah's blog
for more info!
Sooo, here are four random things about me!
1) I LOVE little rodents! I have a little rodent myself. His name is Benji and he's a hamster. And nooooooo, he's
not a rat.
He is a hamster. Most girls freak out at the sight of rodents, but I think they are absolutley adorable! Especially hamsters.
2) I enjoy doing musical theatre! The last play I did was
Cinderella
last fall. It was TONS of fun too! The next play will be
The Music Man
.
This is a pic of my friends and me backstage for Cinderella
3) When I was 6 years old I ran 2 miles with my dad! No joke,
you can ask him
if you don't believe me! It was WAAAAAY tiring, but I did it!
4) I am in love with heels. High heels are probably one of THE BEST creations
ever
. If I could, without falling down and breaking my neck, I would totally wear a pair of 10" pumps.
Isn't it beautiful? It's not a 10" heel, but it's a 5" heel.
So those are four random things about me! Remeber to hop on over to
Hannah's blog
to participate and for more info!
-----------
Also, be sure to check out Lynnette Kraft's blog to win a CHAMPION JUICER!
Click here
to head over to the giveaway!