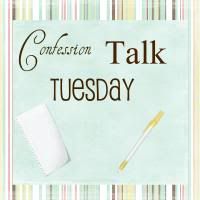 Last Wednesday when I posted all of my confessions, I thought, "Hey! It would be so fun to have something where people could link up and post their confession(s)!" And that, my friends, is how
Confession Talk Tuesday
was born! So what
is
Confession Talk Tuesday?
It is posting your confession(s) for others to read. By doing this, it helps us grow closer to one another by showing that we're not perfect and telling about an imperfection or two (or three, or four....however many you want to put!)
All you have to do is something simply like this (these are my current confessions):
Confession: My room is
still
messy
Confession: My fingernails that were long a few days ago...are no longer long
Confession: I haven't put on makeup or styled my hair in days....days
----
That's all you have to do! I hope that you'll link up, blog hop, grab a button, and post your confessions!