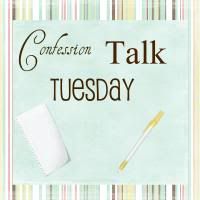 Well today is week two of Confession Talk Tuesday! If you didn't link up last week and don't know what it is,
click here
.
Confession: I made an epic four layer, rainbow cake for my mom's
43rd
birthday this past Sunday!
Confession: One of the four layers of the cake came out of the pan after baking...into five pieces (I could have cried).
Confession: I have been a bad blogger and haven't posted since...last Tuesday! But why blog when you don't have anything to blog about?
Confession: I need to upload newer photos onto my blog...and soon!
Confession: This little guy is probably my favorite two year old in the world...
Confession: I am posting Confession Talk Tuesday waaaay late! It probably will be posted late each week considering I don't get home from our home-school group until about 3:30 or 4:00.
What's
your
confession? Link up and I encourage you to blog hop!